5 Things You Need To Know Before Buying Extensions
Hair extensions is a very popular product because it is simple and convenient, and can add hair volume in a undetectable way. Many actors and singers are also using hair extensions. It is a must-have item for beauty lovers. However, there are actually many different categories and colors for hair extension. If you buy it blindly just because you like it, it may have the opposite effect. So 5 things you need to know before buying extensions.
Personal perfect matches color  
Found out which color is a perfect match with your own hair color. If your have the natural black color, then color 1B definitely is your best choice. Or if you want some highlight you can choose lighter color. White people always have blonde hair or dark brown color, #2,#4 is the best choice for the people who have dark brown hair. Its hard for those people who have a blonde hair, you need to spend some time to figure out which color is the most similar one with your own hair.
Your desired length
Imagine what kind of style you want your hair be, then choose the ideal length according to your current length. No matter the hair extension is too long or too short, it may be difficult to give us the desired result. As long as you have enough hair to conceal the top weft, you can wear any length extensions that you desire. If your hair is shorter you may need more pieces than what is offered in a single system.
Type of the extension
Hair extensions actually have may different type, clip in extensions , tape extensions, nano ring extensions, micro ring extension, etc. Unless you are a very professional hair stylist, or if you plan to go to the salon for hair extensions, I personally do not recommend you to buy the latter two products, which is nano ring extensions, micro ring extension. Because they have relatively high requirements for professional skills, it also takes a long time to install. They can, however,last for a long time but will be difficult to remove, add additional weight to the hair, and can loosen after a few washings, releasing some of the strands. The opposite is tape extension and clip extension, they are simpler and more convenient. You don't need to go to a salon or have superb skills, even if you are a novice, you can install it perfectly. Choose the right hair extension to achieve twice the result with half the effort.
Synthetic or human hair? 
It depends on how much time you would like to spend on styling. Synthetic extensions are way more cheaper than real human hair. In the beginning, the performance of synthetic hair extension is no different from human hair extension. Heat-friendly synthetic hair can even be curling. However, this fiber type does not last as long, and easy to tangle. Human hair extensions are expensive but you don't need to spend too much time on maintaining your hair. It's way more durable and long lasting , can handling the curvature better.
Texture choices
Most hair extensions are straight texture, but some vendors have some new arrival item with different textures, In order to bring convenience to customers. For example, Ueenly Hair, they have deepwave, water wave and other texture choice for hair extension. This kind of hair extension is very convenient and saves the time for styling hair, but it is more suitable for customers who have curly hair, or people who don't mind spending time styling their own hair. If you have straight hair, but are really interested in other textures, you need to prepare for styling your own hair before buying such products.
Hope this article can help you choose hair extension. If you are interested in buying real hair extension, Ueenly Hair has many products for you to choose from. Whether you are black or white, straight or curly, black or blond, you can find the most suitable hair extension here. 100% remy hair and the best price. Interested? Click here for more information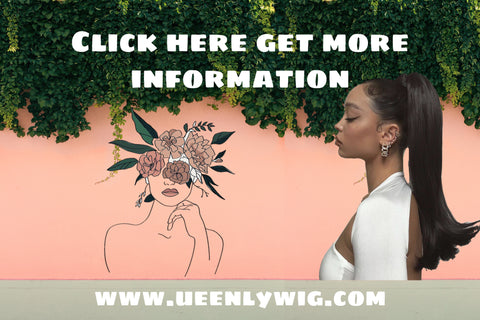 ---